Gobo & Monogram Lighting
Your Name in Lights
A monogram light is an incredible way for you to add the WOW factor to your special event.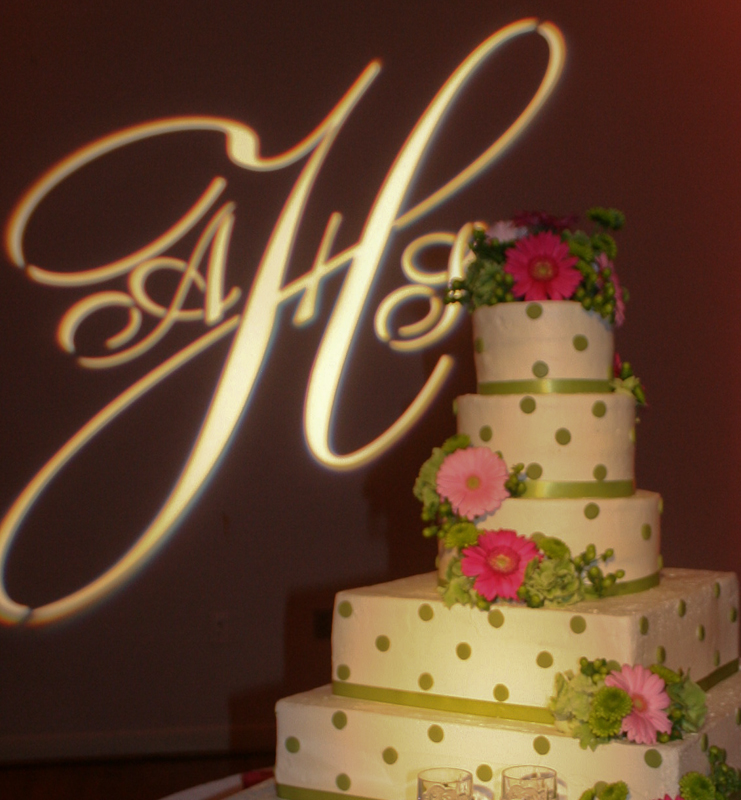 Gobo stands for "Goes Before Optics", originally used on film sets, is a physical template slotted inside, or placed in front of, a lighting source, used to control the shape of emitted light.  Our design team will work with you to strategically place your gobo to maximize the the lighting effect.
We will work directly with you to incorporate your ideas into a design or take an existing design and transfer it into the format required to create a gobo. We'll take your idea or concept and create a few different versions that we will send you for your approval. Once approved we will then submit it to our design team for production.
Gobo lights create dramatic effects on walls, sidewalks – even sides of buildings! – by using patterns to project light in specific designs ranging from the wildly abstract to amazingly true to life. Choose your preferred look from our stock of hundreds of standard gobo images, or create your own custom logos for your wedding… even monograms for corporate functions.
We use only the highest-quality materials in our custom gobos, so you know they're made to last. We can create custom gobos from cost-efficient stainless steel or we can dazzle your viewers by composing your gobo on dichroic glass, to generate stunning high-definition images.  Glass gobos come in either black and white, grayscale or colored.

SEK uses Source Four LED Lustr +, which are known to be the safest and brightest lights in the industry. Their intense bright white light is perfect for projecting your design on any surface.
Call Today for Your Monogram!
Our team of professionals will work with you to design lighting options for your wedding that will truly take your event to the next level. We will work within your budget to create the WOW factor. Call (856) 885-8192 or email info@sekpro.com  today to save your date!
SEK Productions, LLC is South Jersey's Premier DJ and Special Event Lighting company located in Cherry Hill, NJ. SEK Wedding Lighting is proud to serve all of the Delaware Valley, South Jersey, Central Jersey, Delaware, Center City Philadelphia and Philadelphia's five surrounding counties.